VISIT THE BLESSED SACRAMENT

In the spirit of the Eucharistic Renewal, Saint Colette invites you for a quiet time with the Lord. All are welcome! Jesus said: "I am the bread of life; whoever comes to me will never hunger, and whoever believes in me will never thirst." (John 6:35)
Each week we invite you to register for a 30-minute time slot to spend with our Lord Jesus. Please select a 30-minute slot on:
Tuesday from 4:00 PM – 6:00 PM
Or
Thursday from 7:00 – 9:00 PM
Please sign-up each week by filling out the form below or by calling the Parish to register at (847) 394-8100
Blessings!
To learn more about Eucharistic Renewal Visit:
WEEKEND MASSES / MISAS DE FIN DE SEMANA
at St. Cecilia Church
      Saturday 4:30PM English
      Sábado 6:30PM Español
      Sunday 8AM and 10AM English
      Domingo 12PM Español
at St. Colette Church
      Saturday 5PM English
      Sunday 8AM and 10AM English
      Domingo 12PM Español
 WEEKDAY MASSES / MISAS DIARIAS
at St. Cecilia Church
      Tuesday, Thursday, Friday
      8AM English
at St. Colette Church
      Monday, Wednesday, Saturday
      8AM English
 CONFESSIONS / CONFESIONES
at St. Cecilia Church
      Last Friday of every month / Ultimo Viernes de cada mes
      6:30PM—7:30PM
at St. Colette Church
      Saturday / Sabado 8:30AM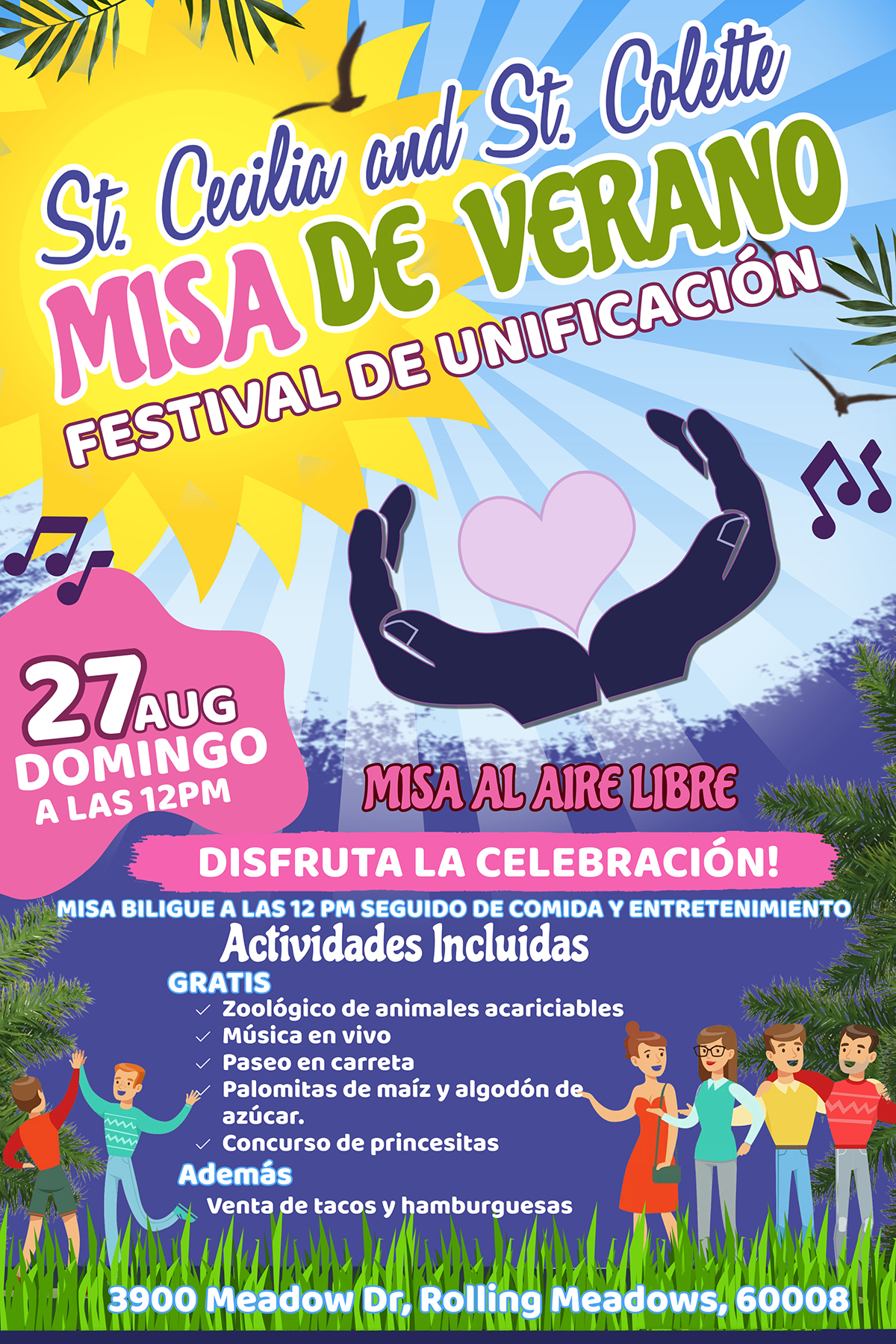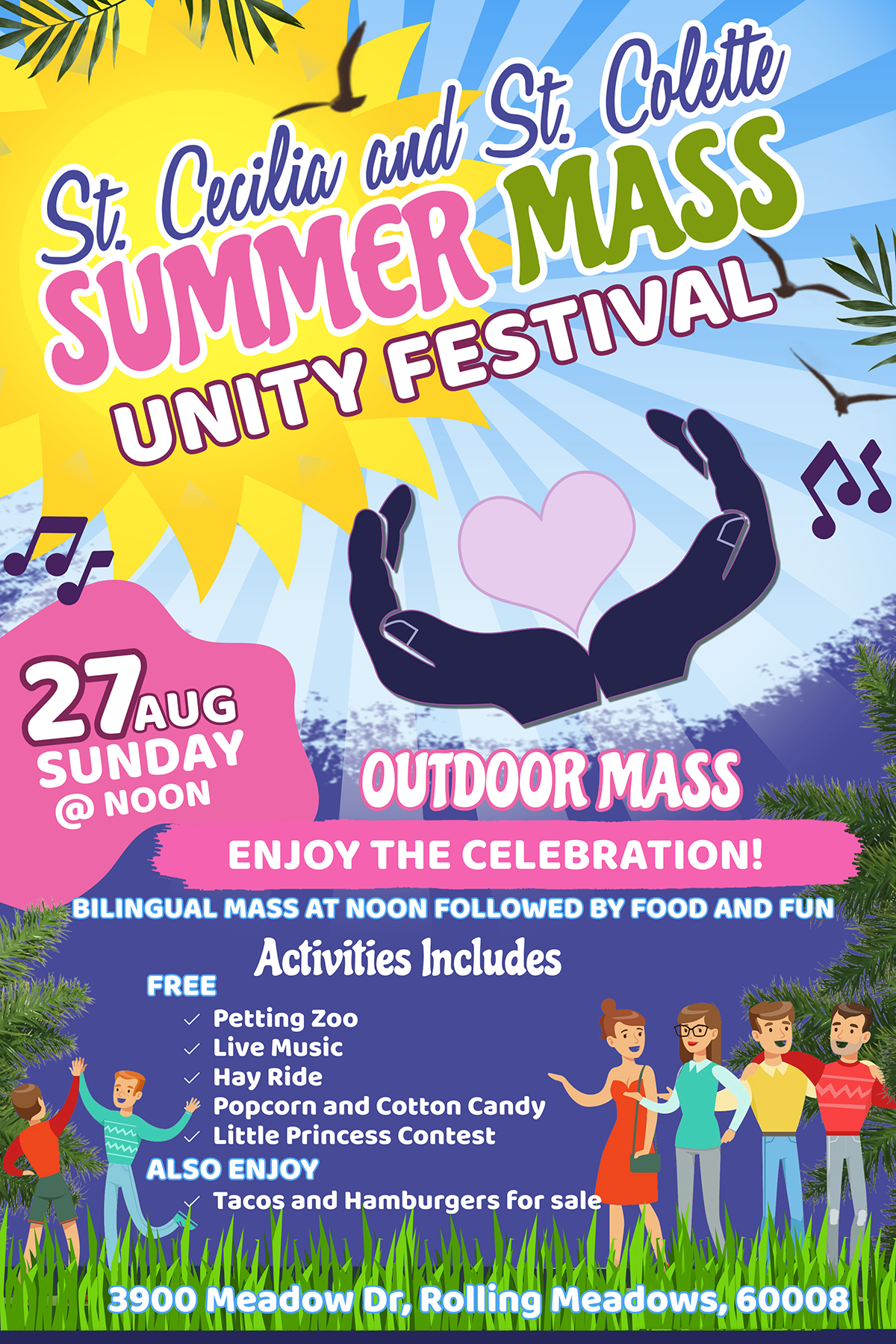 A place of contemplative prayer, a space to honor memories of our loved ones and placements of thanksgiving to God. 
The St. Colette Holy Rosary Garden is dedicated to Our Holy Mother, Mother of all the faithful, Mother of the Church. It is an ongoing project as placements fill every part with donations and contributions from anyone who wants to leave a memorable and lasting mark in this Holy Place. Our Vicar for the Vicariate I, Most Rev. Bishop Jeffrey Grob blessed this Holy Space on September 5th, 2021 when he visited St. Colette for the first time. You are invited to visit the west side of the Church anytime to witness this lasting legacy prayer space for you and the parish community. This beautiful prayer location holds an on ground full Rosary that one can use to pray and meditate as you walk the garden. It holds the statues of Our Lady of Grace, St. Joseph with baby Jesus in his arms and Our Lady of Guadalupe. All are at our disposal to come and pray with. This picturesque project is meant to invoke participation, and inclusion of our parish members; as individuals, as a family, or as a ministry group to make this place to be what it presents. It will hold and treasure your lasting memories, and your wishes for parish members past and present.  There are many ways to participate.  Call the parish at 847 394 8100 or e mail us at stcolleteweb@gmail.com for more information.
Mary, Mother of all the faithful – Pray for us. 
Un Acto de Comunión Espiritual 
Creo, Jesús mío, que estás real y verdaderamente en el cielo y en el Santísimo Sacramento del A​​ltar. Os amo sobre todas las cosas y deseo vivamente recibirte dentro de mi alma, pero no pudiendo hacerlo ahora sacramentalmente, venid al menos  espiritualmente a mi corazón. Y como si ya os hubiese recibido, os abrazo y me uno del todo a Ti. Señor, no permitas que jamás me aparte de Ti. Amén.
An Act of Spiritual Communion
My Jesus, I believe that You are present in the Most Holy Sacrament. I love You above all things, and I desire to receive You in my soul. Since I cannot at this moment receive You sacramentally, come at least spiritually into my heart. I embrace You as being already there and unite myself wholly to You.  Never permit me to be separated from You. Amen.